Outreach Hub Christmas Store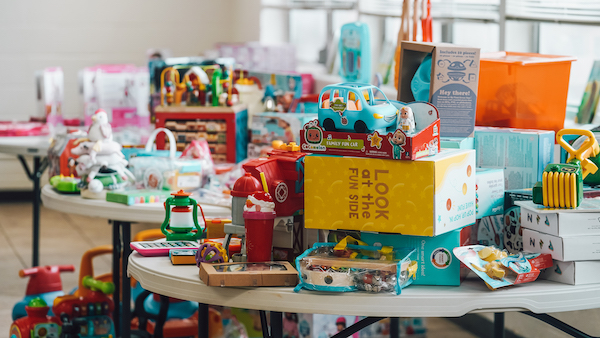 Get ready for a heartwarming holiday season as Trinity's Outreach Hub brings the spirit of Christmas to families in need. The Outreach Hub Christmas Store will take place from December 6-8, with doors open from 10:30 am to 2:00 pm. We invite you to be a part of this magical experience and make a difference in our community. This year, families are invited to shop for their children at no cost and by appointment at the Outreach Hub Christmas Store, choosing 5-6 gifts of equal value for each child.
Here's how you can help us create a memorable Christmas for every family:
1. Donate Toys
Pick up one of the angels hanging on trees outside of each worship space.
Select thoughtful gifts in the price range of $20-$30 per gift.
Deadline for donations: Sunday, December 3rd.
Drop off your unwrapped gifts at Trinity West Homewood or Trinity's Oxmoor campus.
For added convenience, you can shop for gifts by age group or purchase items from our Amazon Wishlist. Amazon will deliver these gifts directly to the Outreach Hub.
2. Volunteer and Spread Cheer
Volunteer opportunities include organizing donations, helping set up the store, and providing treats to families as they shop. Sign up online!
This year, we are excited to offer families the opportunity to shop for their children by appointment at the Outreach Hub Christmas Store, ensuring a personalized and meaningful experience.
Let's come together to make this Christmas season truly special for those in our community who need it most. Your generosity and volunteer spirit will bring joy, hope, and love to the hearts of many this holiday season. Thank you for being a part of Trinity's Outreach Hub Christmas Store.
Related Events