Sharing Food
Partnering with other community organizations, we are able to distribute to hundreds of families and individuals the groceries/supplies for meals every single week.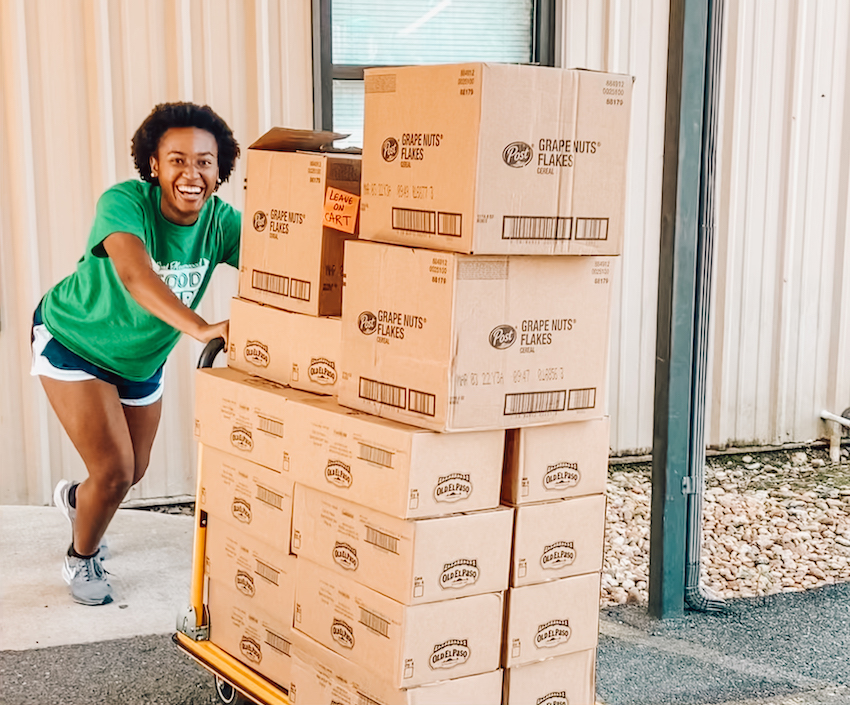 Food Share
Every Tuesday • 1:30-3:30 pm
Each week we serve over 250 local households, giving each family shelf stable groceries, produce, and meat that we receive from the Community Food Bank of Central Alabama as well as donations from church members. Every Tuesday we share pre-packed food donations through a drive-thru line under the Outreach Hub portico.
Backpack Ministry
This ministry was launched in response to chronic childhood hunger in our community. Volunteers pack and deliver weekend meal packs to food insecure students at the five Homewood City Schools. During the school year, we distribute around 100 Weekender Bags each week.
Blessing Boxes
Trinity UMC has Blessing Boxes available at both campuses so that people can take what they need and give what they can.
One is located on Seminole Drive near the upper sidewalk and entry to the Oxmoor church building.
The second box is next to the gym at our West Homewood campus (914 Oak Grove Road).
Want to Help?
We can't do this without you!
More Details
Food Share
Trinity volunteers pick up our food bank orders on Mondays (10:00-11:00), and a small team unloads and sets up the gym each Monday morning (10:30-12:00). On Tuesdays, we have a morning shift of volunteers from Trinity and the community who pack the bags and set up for distribution (10:00-12:30). The afternoon shift welcomes and checks in guests, and then distributes the food in a double line drive-through service (1:00-3:00). Volunteers of all ages can plug into this ongoing relational ministry. We hope you join us!
We also need drivers! Pick up trucks, large SUVs or other large vehicles are best, and our pick up window is Monday morning around 10:15 am. The orders can be picked up at the Community Food Bank of Central Alabama (107 Walter Davis Dr. 35209) and brought to Trinity West Homewood.
---
Backpack Ministry
Please feel free to contact us with any questions! Reach out to Andrew Schilder or Mary Liz Ingram.
Here are 3 ways to serve our Homewood students:
Pack bags at home and bring to church
Pack bags with your Sunday School class or small group
Sign up to deliver the bags to schools (see Mary Liz for more info!)
To assemble bags at home, each bag should include the following, and items can be packed in a plastic grocery bag then tied closed:
1 Box of Mac & Cheese
1 Soup or Ramen
1 Chef Boyardee
1 snack (animal crackers, cheese crackers, pudding cup)
1 granola bar (nut free)
1 fruit (prepacked, like applesauce)
2 oatmeal/grit packs/or 1 small cereal
---
Blessing Boxes
Volunteers are needed to donate items, place them inside the box, and make sure the inside of the box is orderly when donating them. You can sign up for a time/date slot using the link below. If you have any questions, please contact Connie McCallum.