Small Groups
Small groups are authentic communities who are growing in their relationship with Christ, making a difference in our world while creating a place where everyone can belong.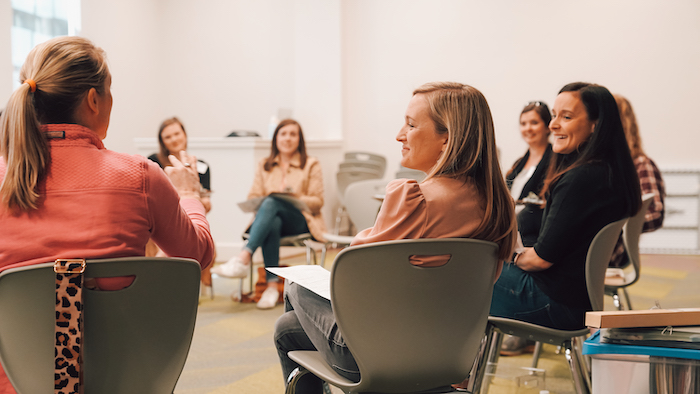 Find a Small Group
Small groups play a vital role in helping relationships flourish in the life of the church. In community we are known, loved, cared for, pursued, encouraged, and challenged to be more like Christ.
Start a Small Group
We are passionate about helping you turn what you love into ministry by starting a small group.Find out how you can start your journey to leading a group.
Discernment Gatherings
Pastor Brian Erickson will lead a 4-week study and information session on the issues affecting The United Methodist Church and the way Trinity is discerning a way forward. Every Wednesday in September, 6:00-7:00 pm in the Sanctuary.
----------
September 7: Define spiritual discernment, and how it differs from arriving at conclusions or forming opinions. Give the most accurate and relevant information regarding the state of our denomination, and the history of our conflict on human sexuality.
September 14: Explore the Biblical and theological underpinnings of our disagreements, and why these disagreements strike at the heart of our most deeply held convictions. Examine the Wesleyan approach to "our theological task," and how that might inform the work before us.
September 21: Discuss the New Testament images for the church, how the Bible instructs us to make decisions, and what those teachings might mean for us as we discern our future in ministry. Define the challenges faced by a "big tent" church like Trinity.
September 28: Talk concretely about the current options before us as a church, and what each pathway could possibly look like for a church like ours.
----------
Missed a week? Check out our YouTube page to get caught up! Watch Videos of YouTube
Led by:

Brian Erickson

For Ages:

21+

Meets:

Every Wednesday from 6:00pm-7:00pm

Childcare Available?

Yes - Nursery care is also available from 5:45-7:15pm to accommodate adult small groups on campus. To register, please contact Kim Skelton ([email protected])

Topic:

General Study

Group Type:

Small Group

Location:

Sanctuary - Oxmoor Campus

Status:

Open
Wednesday Night Dinner and Activities
Check out all of the other amazing opportunities we have on Wednesday Nights.